---
---
With the popularity of smartphones, more and more people use them to watch online movies, Youtube or their favorite TV shows. However, the phone screen can be very unpleasant to the eyes. The Phone Screen Enlarger solves the problem of mobile phone screen!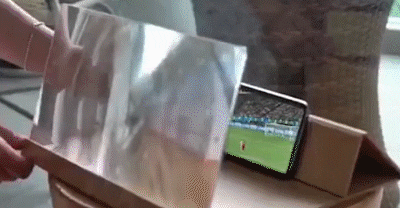 It is lightweight and convenient, the 3D Screen Enlarger provides affordable and clear magnification that you can take with you wherever you go.
This Enlarger comes with a stand and phone holder that fits iPhones, Samsung Android smartphones and most other models.
Adjust the Enlarger screen to your liking by moving it up or down and then enjoy the enhanced view that you can use for reading text messages and website articles, watching videos and movies, or anything else that is being displayed on your device.
Features:
- No Power-driven
- Random color
- 3D effect
- Suitable for all kinds of mobile phone
- Specially fit for the elderly to read books
- Reduces the eyes fatigue when you watch videos on the phone
- Suitable for use on various occasions such as indoors, camping, travel, and leisure, etc
How To Use:
- Simply move the screen up from the folded position, pull on the smartphone holder located on the base behind the screen to flip it up, and place your cell phone in the horizontal/sideways view position.
SHIPPING POLICY
The delivery is free for all orders above 5000 PHP and it only costs between 149 PHP and 299 PHP for all orders below, depending on the weight of your order and your location.
All orders are processed within 1-2 business days only and sent from Manila via an express shipping that only takes 2-5 business days to reach you!